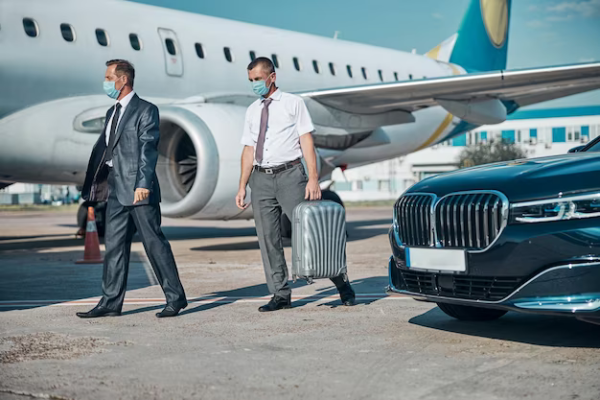 Reliable
Airport Transfer
Discover the epitome of reliability and convenience for your Oxford Airport transfers and luxury transportation needs at 7STOPPERS Transport. We've become renowned as one of Oxford's premier airport transfer service providers, serving the city and its surrounding areas with exceptional private door-to-door transfers. Rest assured, we have your travel needs covered, whether it's getting you to or from the airport, a hotel, or any destination you desire, all at affordable rates.
As connoisseurs of comfort and elegance, we offer an impressive fleet of the latest executive class vehicles from popular brands. Picture yourself arriving in style, making a statement at various occasions and events with our prestigious transportation options.
Our regular journeys include popular routes like Oxford to Gatwick, Oxford to Stansted, Oxford to Heathrow, and Oxford to Luton. So, whether you're planning a business trip or a leisurely escape, 7STOPPERS Transport ensures you have a smooth and hassle-free journey.
Contact us today at 07542 973042, and our friendly and experienced customer care agents will be delighted to assist you. Alternatively, you can reach out via email at info@7stoppers.com. Let us enhance your travel experience with our unmatched services, tailored to your convenience and delivered with unwavering excellence.
Airport Transfer Services with 7 Stoppers – Effortless Travel, Exceptional Comfort
When you choose 7 Stoppers for your airport transfer needs, you are opting for a seamless and stress-free travel experience right from the moment you land or before you take off. We understand that traveling can be hectic, and our primary goal is to ensure that you have a smooth and comfortable journey to or from the airport. Whether you are a frequent business traveler, a family going on vacation, or a jet-setting VIP, our airport transfer services are tailored to cater to your specific requirements.
1. Prompt and Reliable Service: Our team of dedicated professionals is always ready to assist you. With our airport transfer services, you can rest assured that we will be waiting for you on time, whether it's at the airport terminal or your doorstep. We closely monitor flight schedules to adjust to any unexpected changes, ensuring your journey remains on track.
2. Luxurious Fleet: Travel in style with our impressive fleet of luxurious vehicles. From elegant sedans to spacious SUVs, our cars are meticulously maintained, offering a comfortable and opulent experience throughout your trip.
3. Experienced Chauffeurs: Our highly-trained chauffeurs are not only skilled drivers but also exemplify professionalism and courtesy. They are familiar with the best routes to get you to your destination efficiently and safely. Our team is dedicated to making your journey as pleasant as possible, providing a VIP treatment that you truly deserve.
4. Privacy and Comfort: At 7 Stoppers, we prioritize your comfort and privacy. You can unwind and relax in our plush leather seats, take advantage of the onboard amenities, and enjoy a smooth ride, free from distractions.
5. Personalized Assistance: We understand that every traveler's needs are unique. Whether you require extra luggage space, child seats, or have any specific preferences, just let us know, and we'll make the necessary arrangements to accommodate your requests.
6. Door-to-Door Convenience: Forget the hassles of navigating public transportation or finding parking at the airport. With our door-to-door service, we will drop you off directly at your terminal, and upon your return, we'll be waiting to pick you up and bring you home or to your next destination.
7. 24/7 Availability: Travel doesn't follow a strict schedule, and neither do we. Our airport transfer services are available around the clock, ensuring you have a reliable transport option for early morning departures or late-night arrivals.
8. Competitive Pricing: Enjoy the benefits of top-tier service without breaking the bank. Our airport transfer rates are competitive, offering excellent value for the exceptional level of service we provide.
When you choose 7 Stoppers for your airport transfer needs, you can trust that you're in capable hands. We take pride in delivering excellence and exceeding expectations, making your airport journey a memorable part of your overall travel experience.
Let us take care of the logistics while you focus on the more important aspects of your trip. Book your airport transfer with 7 Stoppers today and experience the epitome of luxury, comfort, and efficiency.